One week from today, I will be going on vacation with my family. (That would be my mother, my stepfather, my sister, her boyfriend, my husband, my daughter, and me.) About 4 years ago, we went to Disney World. Last year, we went to Ocean City, Maryland. This year we're going to Washington D.C. We'll be gone for a whole week, taking in museums and (hopefully) having tons of fun. Next year, I'd love to go to back to a beach-type area. We were looking at some Outer Banks vacation rentals originally, though I forget why it was taken off the list of places to go. I think it might have been too far to travel this year. We had to take into consideration that my sister's boyfriend might not be able to come for the entire week. So we were looking at places closer to home. Next year? Screw it. I want to go to the beach! And Carolina designs has some awesomely beautiful houses.
For example: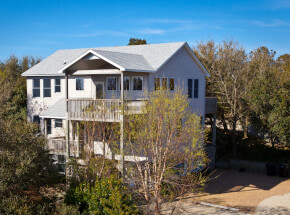 This one isn't too far from the beach plus it has a private in-ground swimming pool and a pool table. There's five bedrooms so everyone would be able to have their own room and there's 4 1/2 bathrooms so everyone can have their own bathroom too. That's much better than the house in Ocean City. While that one was right on the beach, it only had three bedrooms and two bathrooms. We ended up sharing our room with our daughter and the bathroom with my sister. Needless to say, there was always a long wait for showers.
I suppose I shouldn't plan next year's vacation when this one hasn't even started yet. Though....I love planning. And these houses are gorgeous. And, really, it's not that far from home - only about 8 hours. That is totally doable. I really want to make this happen!